BREAKING NEWS: Package reportedly exploded and injured one near Holmes Hall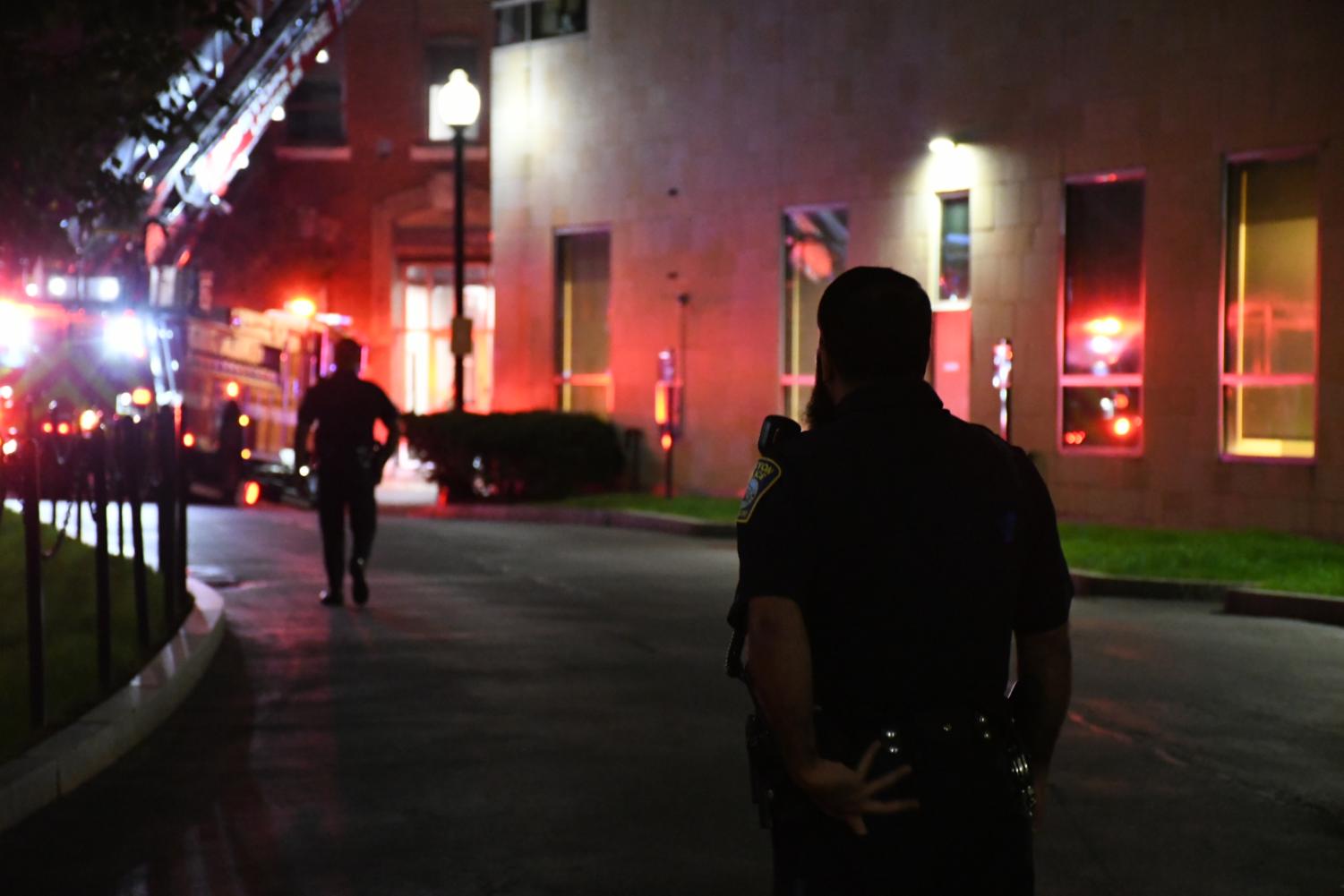 A package exploded and slightly injured a staff member on Tuesday evening, officials said.
The blast happened around 7:18 p.m. at 39 Leon St. near Holmes Hall, Boston Police Department Superintendent Felipe Colon said at a September 13 news conference.
Northeastern University Police Department, or NUPD, Chief Michael Davis said the campus was secure and NUPD officers responded to the blast within a minute.
Another suspicious package was located when officers responded, Colon said, and was "made safe."
"A search revealed a second similar package which was eventually made safe by our bomb team. I will tell you the scene is secure and the investigation is ongoing," Colon said at the press conference. .
The 45-year-old male staff member who opened the package suffered "minor" hand injuries, Colon said. According Boston Emergency Medical Services he was taken to a nearby hospital.
Northeastern sent out its fifth NU alert of the night around 11:30 p.m. and said the campus would be open tomorrow and no students were injured.
"The NUPD is increasing patrols and security on campus. At this time, we expect the campus to be open and fully operational tomorrow," the alert reads. "The safety and well-being of our community is always our top priority. We will keep you posted as more information becomes available.
At the press conference, Boston Mayor Michelle Wu thanked first responders for the "very quick, coordinated and efficient" response.
"As a mom, I just sent my two little babies back to school at our Boston Public Schools. I take very seriously that this city is home to young people from everyone, from our youngest learners to our students and university staff," Wu said. "We want to make sure we emphasize that this is the highest priority – the safety and well-being of all of our young people here."
Davis thanked all agencies that responded, including the Boston Police Department, FBI Boston Division, Boston Fire Department and Boston EMS, according to various speakers at the press conference.
"It is very important to note that our campus is secure, and we will maintain a secure campus in perpetuity," Davis said. "That's our job and that's what we will continue to do, and we will work with our partners here to deliver that result."
Jason Cromartie, assistant special agent in charge of FBI Boston, said the agency is offering full support, including resources from the Joint Terrorism Task Force, Evidence Response Team and special agent technicians to the bomb.
Boston Police Commissioner Michael Cox said if people see anything suspicious, they should "say something."
Police and other authorities were unable to answer further questions, citing the ongoing investigation.
Earlier Tuesday evening, Northeast canceled classes in nearby buildings for the evening via a NU alert sent around 8:40 p.m.
"Evening classes in Behrakis, Shillman, Ryder, Kariotis, Dockser and West F are canceled due to the ongoing investigation in the area," read a second NU Alert.
In an emailed statement to The News at 8:55 p.m., Northeastern University spokeswoman Shannon Nargi said the package was "delivered to Holmes Hall" and the building was evacuated.
Holmes Hall is located between Lake and Meserve Halls and opposite Willis Hall.
This is an evolving situation and The News will provide updates as information becomes available.