Charleston Area Ministry Mobilizes for Health Care Access for Low-Income Communities | Health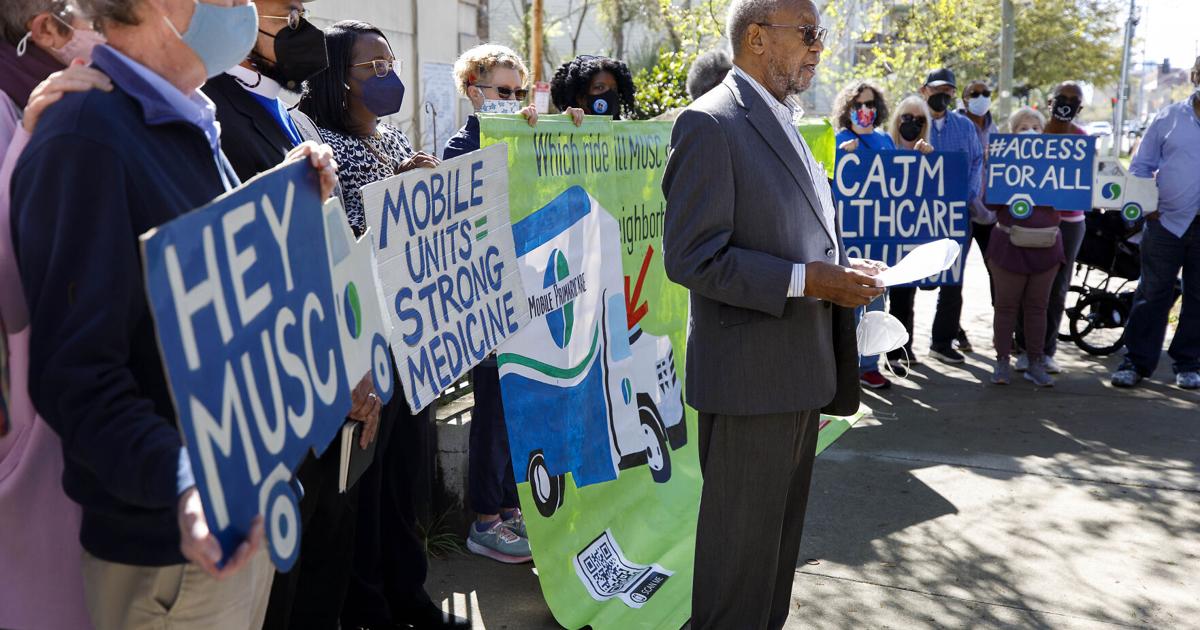 Activists and health care providers for low-income people in the Lowcountry say the lack of transportation prevents many from seeing the doctors they need.
Some of these activists continue to call for mobile medical units that could help bring services to people where they are.
Dozens of Charleston-area Justice Department members marched past Nichols AME Church on March 21 while holding banners illustrating the risks if adequate health care is not provided to residents of the community.
The banners read "What ride will MUSC send to your neighborhood?" with one arrow pointing to an image of a mobile medical unit and the other to the back of a hearse.
"What's at stake are the lives of residents of the tri-county area," CAJM member Stephanie Pope Singleton said at the rally. "So many people show up at hospitals with late stages of hypertension or diabetes for no reason other than the access."
Research collected by the CAJM Health Care Committee from state and federal sources shows that 10 to 20 percent of people who make appointments at free clinics miss them due to a lack of access to transportation. Officials at the Fetter and Shifa Free Clinic in Mount Pleasant said transportation continues to be an issue for patients at their clinics.
The rally was part of CAJM's ongoing campaign to get the Medical University of South Carolina to provide two mobile medical units to Fetter Healthcare Network, which would use them in Charleston, Berkeley and Dorchester counties. The activist group said it reached a verbal agreement with MUSC in June for the units, but then fell apart in July. The parties have been unable to reach a working agreement since then.
MUSC spokeswoman Heather Woolwine told the Post and Courier that the hospital understands the need and wants to work together to improve access to health care for underserved people and communities.
"We continue to seek out and collaborate with local and statewide partners, including Fetter Health Care Network, to create positive and lasting impact regarding community outreach initiatives," Woolwine said in a statement. the newspaper.
The statement did not respond to CAJM's request to provide mobile units to Fetter for community use.
Fetter Healthcare Network serves nearly 3,000 area residents each year through its own mobile medical units. The association has two medical units and two dental units in operation, and a medical unit under construction. Fetter CEO Aretha Powers said the need for more vehicles to provide on-the-go care in the community is clear.
Powers oversaw the nonprofit's COVID-19 awareness programs in North Charleston last year, where many residents walked, took public transportation or relied on family and friends for rides. for free COVID tests and vaccinations.
"Since I've worked in healthcare, transportation has been a barrier that we have to overcome," Powers said.
Powers also said child care was another hurdle for patients seen at Fetter's clinic, noting that many bring their children or grandchildren to appointments.
The organization is asking MUSC to revisit its proposal at the upcoming Nehemiah Action, an annual event hosted by CAJM for residents and officials to discuss community needs and initiatives, on April 4 in North Charleston.
"We believe that MUSC, which receives state and federal funding, should be more responsive to ideas that will make health care more accessible," said Nichols AME Church senior pastor Reverend Henry Darby.
According to local healthcare provider Shifa Free Clinic, many patients visiting free or mobile healthcare clinics in the area have either gone years without a primary care doctor or never had one. This is also the case for some children in Charleston County.
To meet the need, Fetter partnered with the Charleston County School District to place mobile units on three school campuses, visit those schools on scheduled days, and work with school nurses and parents to treat students during the school day.
Fetter's mobile units can treat conditions like ear infections or urinary tract infections, or provide preventative care, like vaccinations.
"Our families face many barriers," said CCSD Director of Nursing Services Ellen Nitz. "And that could be transportation, financial or language barriers."
She added, "Being able to provide these resources in schools, we are able to overcome all of this."
Other organizations have other methods of reaching the community. The Shifa Free Clinic in Mount Pleasant does not have a mobile unit, but it holds health fairs outside its office to meet patients where they are, clinic director Reshma said. Khan.
The Shifa Clinic provides free health care to uninsured, non-English speaking people who are considered low income. Services include everything from primary, vision and pediatric care to dermatology and OBGYN services.
While Shifa's doctors are doing their best to get to the tri-county area, some of their patients are walking to Mount Pleasant. Such was the case with Cord Warren, who walked 7½ miles over the Arthur Ravenel Jr. Bridge to get to one of his appointments when he couldn't afford the bus fare.
"The bridge is quite steep," Warren said.
Warren, a 55-year-old man from James Island, has been homeless since 2018. He visits Shifa Clinic every few months for help getting his blood pressure and cholesterol pills.
"They've been really nice and I haven't had any issues so far," Warren said.
There are some limitations to the clinic, which is unable to perform x-rays and can be difficult to reach if Warren runs out of bus tickets or arthritis in his hip prevents him from crossing the bridge.
Warren's situation mirrors many others in the Charleston area.