Garco Mill Complex in North Charleston 80% Leased with Several New Tenants | Real estate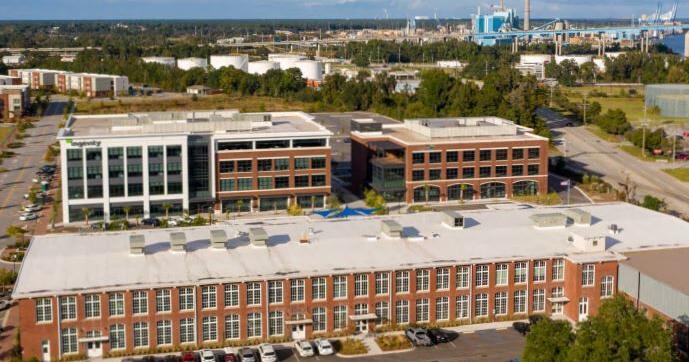 A mixed-use office and retail campus in North Charleston is now over 80% occupied after one tenant added leased space and three new ones moved in.
Recent leases at 240,000 square feet Garco Mill complex near Park Circle now includes:
5,778 additional square feet for Coastal Carolina Research Center, a medical research center performing clinical research trials and investigational drug studies, which already occupies 7,755 square feet.
2,300 square feet leased by Direct surety, a national bonding agency.
1,982 square feet leased by a custom home builder Houses by Dickerson.
10,931 square feet leased by an insurance law firm Willson Jones Carter & Baxley.
The three-building campus located at 4900 O'Hear Ave., near restaurants, bars and retailers along East Montague Avenue, now has approximately 40,000 square feet of office and dining space available for other tenants.
Garco Mill is part of a partnership made up of a global real estate company Jamestown and Charleston real estate developers William cogswell and jay weaver. Jamestown, known for the redevelopment of the Atlanta neighborhood Ponce city market and that of New York Chelsea Market, entered into the partnership in March 2021.
Cogswell and Weaver, who purchased the property in October 2017, are known for renovating historic buildings and have led the development of a number of properties, including Charleston's Cigar factory and A cool shot, and Savannah Frog city and Land of stars.
Major Garco tenants include Company X, Ingenuity and the Charleston Subway Chamber of Commerce.
Change hands
An office building in Mount Pleasant was recently sold for $ 11.5 million.
The 40,000 square foot structure occupied by medical and office users at 1156 Bowman Road changed hands in November, according to the commercial real estate company Emblematic companies.
HTA-Bowman Center LLC purchased the nearly 4 acre property at 1156 Bowman LLC, according to Jon chalfie and Hailey Clifton of Landmark, who represented the seller.
The property last changed hands in 2013 for $ 4.45 million, according to Charleston County land records.