Here's what SC's Chef Ambassadors are doing throughout the year, including the upcoming Charleston | Food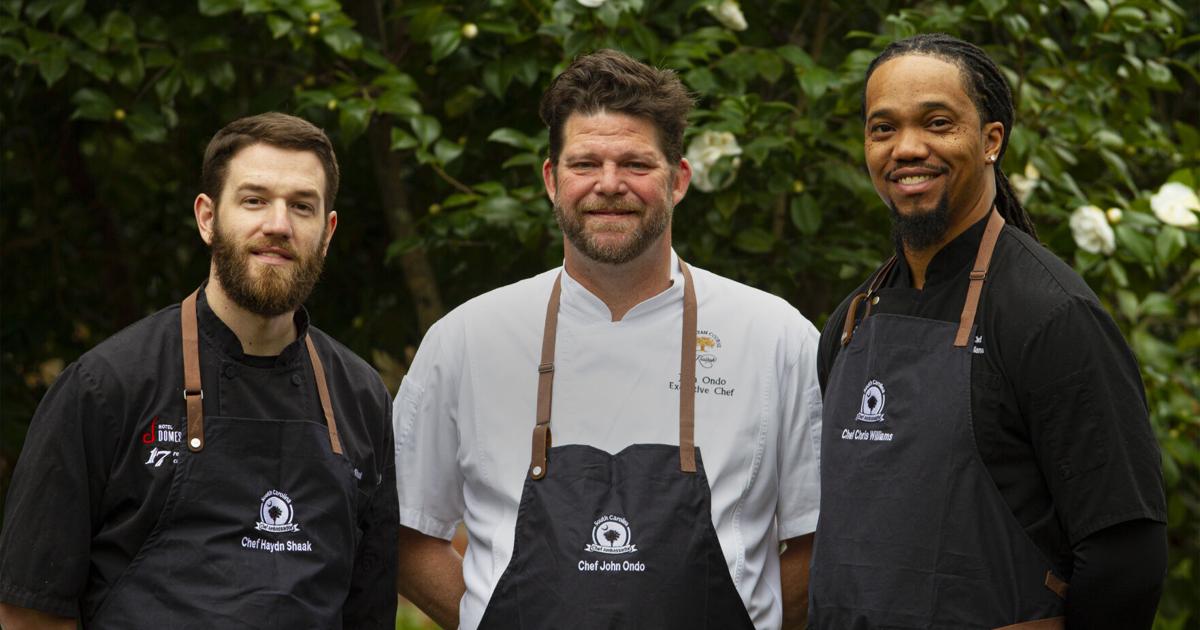 Each year, the South Carolina Department of Agriculture and Department of Parks, Recreation and Tourism come together to host a program that showcases culinary talent from across the state.
It's called the South Carolina Chef Ambassador program, and the governor ultimately selects these faces of the state from a diverse roster of food and beverage professionals who span geography, background and the kitchen.
The initiative was developed in 2014 and has since spotlighted 25 chefs. Although the chefs receive no monetary compensation for the title, they do have the opportunity to participate in some of the state's major culinary events.
In a typical year, they would also have the chance to cook dinner at the James Beard House in New York, but the space is still closed due to COVID-19.
This year is a little different, like previous COVID-19 years, but the three selected chefs – John Ondo, Chris Williams and Haydn Shaak – will be featured at a new two-day culinary festival in Charleston taking place on the 23 and September 24.
Bring together
Gather Charleston, presented by Food & Wine magazine, will include demo stations for everything from cookies and brunch to barbecue to Gullah cooking. There's a "Notes of Jazz" wine tasting with Graft, a book signing with Kevin Mitchell, and a Lowcountry grill.
The chef ambassadors will be part of an event called "Passion on a Plate", which will take place from 2:45 p.m. to 3:30 p.m. on September 24.
They will showcase the "many flavors of Southern cuisine" through their own curated dishes, according to Explore Charleston's vice president of media and innovation, Doug Warner.
While Gather is certainly an event the Chiefs are looking forward to this year, here are some other highlights they've had throughout their tenure, which extends into New Years.
A new oyster connection
John Ondo is Charleston's own representative in this year's program. He is the Executive Chef of The Atlantic Room at Kiawah Island Golf Resort.
Ondo, like all the chefs selected as Chef Ambassadors, has a strong connection to the fields, farms and waterways of the region. In particular, Ondo grew up playing in the tidal creeks of the Lowcountry. Now, he works closely with Charleston anglers and shrimpers to showcase fresh, local catches.
Ondo said it was an honor to be selected as Chef Ambassador, and one of the highlights of his year so far has been getting the chance to participate in the oyster farming process.
As part of this year's program, each chef was paired with a South Carolina farm and prepared a unique dish based on the farm's specialty, which was captured on video. The series is called Greatness Grown.
Ondo's suitable neighborhood match was Lowcountry Oyster Co., which he has since chosen as his house partner for The Atlantic Room. He made oysters on the half shell with what he calls "some of the best oysters ever, brackishest" in town.
"It gave me a new appreciation for the taste and farming of an oyster," Ondo said.
Although being part of Charleston Wine + Food and the Southeastern Wildlife Exposition weren't new experiences for Ondo — he's been a part of the Lowcountry food scene for 20 years now — he said he enjoyed those demonstrations of kitchen.
Another benefit has been creating a stronger bond with the Department of Agriculture, he said. Now he knows where to find the freshest ingredients in high season.
"They helped me figure out who has the best pink polka dots," he said. "A lot of people go to the grocery store and don't care where their produce comes from, but it's important. Right now, if you're not buying a local tomato, you're doing it wrong."
He also enjoyed the camaraderie with the other chefs.
Ansley Turnbad of the Department of Agriculture said the text thread the group started is something she did not expect the program to produce. But these leaders become close and stay in touch; they all send holiday text messages and happy birthday wishes in addition to updating each other on the latest food news and accolades from their restaurants.
Ondo said it's not just this year's chefs either. He is also well acquainted with past Chef Ambassadors, such as Kevin Mitchell of Charleston.
Looking ahead, Ondo is excited about Euphoria, a four-day upstate food festival. And if he could add anything to the curriculum, Ondo said he wishes there had been more educational opportunities, as he has a teaching background at Trident Technical College.
"What they did works now, and anything they do I think will make it better," he said. "I hope education is one of those enhancements, because I've always loved teaching."
Give me the beet, boys
A graduate of Greenville Technical College's Culinary Program, Chef Haydn Shaak began an apprenticeship under his father at the Greenville City Range Steakhouse Grill when he was 16 years old. Over the next five years, he rose through the kitchen ranks at several establishments, eventually taking over restaurant 17 at the Hôtel Domestique in 2018.
One of Shaak's highlights in the ambassadorship, like Ondo, was being part of the Greatness Grown program which featured a farm near and dear to his own restaurant.
Stage 22 Farms grows a variety of organic fruits, vegetables and flowers for the people and restaurants of the Travelers Rest community. And it's a huge piece of making the menu for Shaak.
"The most important thing for me is that I can work directly with my farmer," Shaak said. "We can sit here and have this relationship where we basically plan our whole year."
Shaak made a beet salad from the produce from Stage 22 which was captured on video. Being able to give back in some way by showcasing his own connection to the local farm was integral to his experience as an ambassador, he said.
"As South Carolina's Chef Ambassador, it's an honor to be able to showcase these ingredients," Shaak said. "We try to do everything we can on the menu with produce from local farms."
"Gas Station Kitchen"
Chris Williams grew up on a farm in Olar. He opened his restaurant, Roy's Grille, at a gas station in Lexington.
There, he serves smoky barbecue, tender ribs, crispy fried chicken and an array of signature barbecue sauces, elevating "gas station cooking" to an art form.
While it doesn't owe it to the Chef Ambassador program, it just so happens that this very year this grill will be moving into its own brick-and-mortar setting.
"The visibility that the ambassadorship has given me and the restaurant has definitely helped put more people in seats and made more people aware of what we do and where we are," said Williams.
Williams said the program opened doors to festivals he might not have been able to attend, at least not yet in his career. And while the program provided a platform, Williams credits his own hard work and consistency over nearly a decade for getting him to where he is today.
"It doesn't matter who you are, where you are, none of that matters," he said. "The only thing that matters is that you love what you do and stay committed to it, and eventually it will all happen. Eventually people will notice."
Williams is looking forward to being part of the Congress Cup at Hilton Head in December.
"It's been a good race, it's fun and it's not over yet," he said.
For those interested in attending the Charleston Gather event and catching the Ambassadors up close, tickets and more details are available at gather-charleston.com.