Huntington Beach IVC volleyball player Jacyln Sanchez signs with Nevada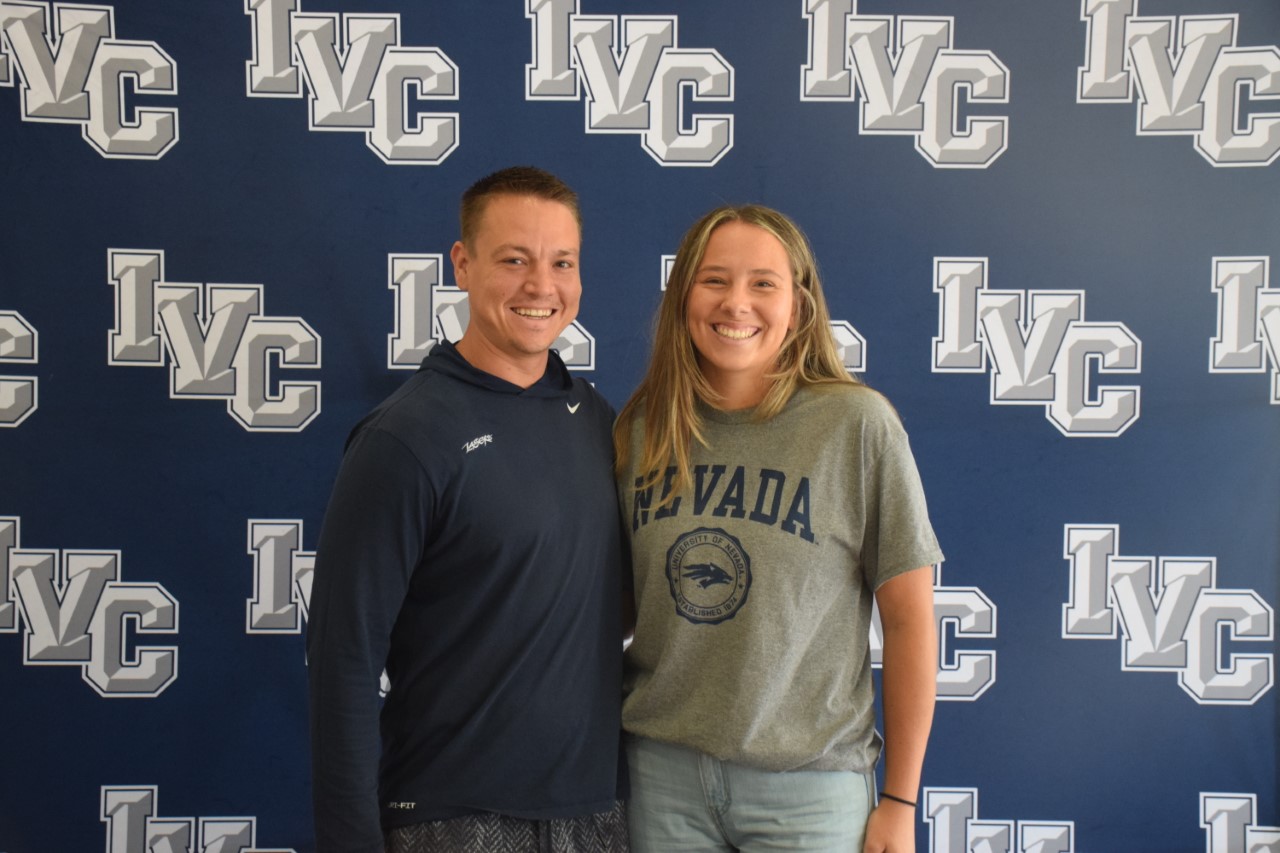 Jaclyn Sanchez with Irvine Valley head coach Ryan Windisch. Photo courtesy of IVC Athletics).
Jaclyn Sanchez, a freshman women's indoor and beach volleyball player at Irvine Valley College of Huntington Beach High School, signs with NCAA Division I from the University of Nevada.
Sanchez will be a setter for the indoor volleyball team Wolfpack.
It was named an all-Orange Empire Conference second team in the fall of 2021 after helping Irvine Valley to a 16-6 record overall and 12-4 in the OEC. IVC finished second in the conference.
Irvine Valley also made the California Community College Athletic Association Southern California playoffs.
Due to need, Sanchez, normally a passer, was used as an outside hitter much of the year for the Lasers.
She ended up averaging 2.74 kills and 2.73 digs per set and finished with 36 aces.
Sanchez was second on the team in kills per set, second in total kills with 200, second in digs per set, second in digs at 199, and third in team aces.
Sanchez then competed for the IVC Women's Beach Volleyball Team in the spring and helped the Lasers win their second CCCAA State Tag Team Championship.
Irvine Valley won its division in the Orange Empire Conference and then beat El Camino, 4-1, Cabrillo, 3-2 and Feather River, 3-2, at the May 12 state tournament in Irvine Valley to win the title.
Sanchez teamed with rookie Emily Guenter at the No. 1 pairing position for the Lasers.
The duo also reached the knockout stages of the CCCAA Pairs Tournament over the next two days.
Sanchez is heading to a Nevada team that is competing in the Mountain West Conference.
—Courtesy of IVC Athletic Communications