Inaugural LGBTQ Health Summit Finds Receptive Audience | MUSK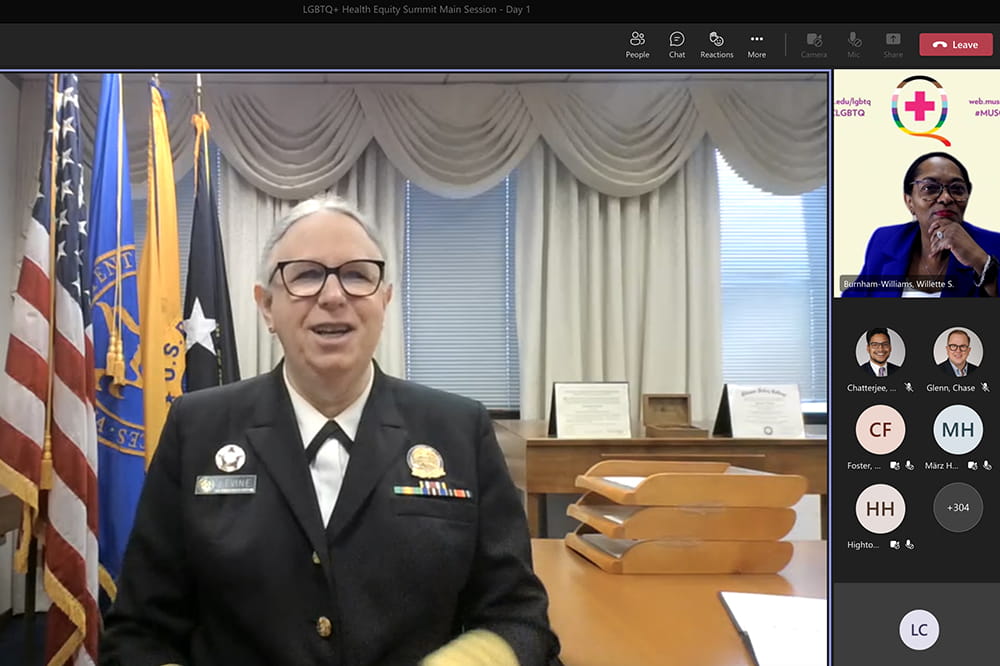 Attendees of the inaugural LGBTQ+ Health Equity Summit at the Medical University of South Carolina left optimistic and excited about the work being done to address the health disparities affecting members of this community . Participants described the sessions as powerful, educational, informative and empowering.
The two-day virtual summit came about as MUSC sought to increase its healthcare providers, students and staff understanding of the challenges facing the LGBTQ community. Very quickly, the staff members of the Department of Diversity, Equity and Inclusion realized that there was a need beyond MUSC for such an educational opportunity and opened it up to everyone. The result – people from across the United States, and even Europe, tuned in to hear from medical providers, researchers, and community members.
The conference began with a speech by Assistant Secretary of Health Rachel L. Levine, MD, the first openly transgender person to be confirmed by the Senate.
"Diversity in all its wonderful aspects should not be simply tolerated or simply accepted. Diversity should be welcomed, and indeed celebrated, for how it strengthens and enhances any organization, in any community," she said.
She noted, like several other speakers, the alarming rates of suicidal thoughts and attempts among LGBTQ youth.
"One thing I want to emphasize," she said, "is that while the LGBTQI+ community faces higher rates of anxiety, depression, suicide and addiction, it doesn't There's nothing inherent about being part of our rainbow family that predisposes us to these mental health challenges.
"It's harassment. It's harassment. It's the overt discrimination we face that leads to these heightened risks. That's why continuing to advocate is so important – for all of us, and for our most vulnerable.
She also spoke about the importance of conducting more research to better understand the healthcare needs of the LGBTQ community, noting that these needs differ even within the community. One group that hasn't received as much attention is the intersex community, she said.
"I had the opportunity to hear from the intersex community and stakeholders. It was quite enlightening. We tend to have a more medical model for the intersex community, as opposed to a biopsychosocial model, and I think we need to hear from the community about their health care needs, to adjust our standards of care, and not only review specific medical issues. but approaching it more holistically," she said.
"We need to do this through the alphabet soup and the wonderful rainbow of our community to ensure that we have research and data on all aspects of our community."
People entering health care and related fields should be educated about community needs and ways to signal that LGBTQ members are welcome. And the workforce must realize that it will serve and interact with members of the LGBTQ community, whether it realizes it or not, said Ilan Meyer, Ph.D., Distinguished Senior Public Policy Fellow at the Williams Institute.
He developed a minority stress model that shows how living with stigma, discrimination, and even internalized bias against LGBTQ people can lead to poor health outcomes. At the same time, strong identification with the minority group can alleviate this stress, as close ties provide more resources to cope.
Meyer pointed to an instance where he spoke to a group of social work students.
"I asked graduate social work students, 'How many of you expect to see LGBT people?' Maybe there were five hands out of 50 – because they heard "This is what I want to specialize in". But what I told them, and what I tell you, you're all going to see LGBT patients.
"Some of them might not be able to tell you they're LGBT, and some of them will tell you. But you have to be prepared. It's from doctor to nurse to staff and administrative staff.
Chase Anderson, MD, a child and adolescent psychiatrist, shared his own life story talking about how sexual minority status interacts with racial minority status. Minority stress is socio-cultural in origin and adds up, he said.
"The way I like to think about it is imagine a paper cut. You have one a day, and it heals at the end of the day, and you think, 'OK, that was boring. It stings, but I'm fine. Imagine getting a hundred paper clippings a day. You have no idea where the paper clippings come from. You don't know how to dress the wounds and you don't know how to heal," a- he declared.
He talked about the microaggressions he and others encountered in medical school and in residency — for example, someone told him the only reason he was elected class president was because he was black and gay.
"I had to remind that person that I was the only person who had given a PowerPoint presentation and written a full speech," he noted.
He also drew attention to senior members of the LGBTQ community.
"Older populations also experience minority stress," he said. "There are a lot of LGBTQ+ Americans who when they get older, even though they dated when they were younger, will go back to the closet because they don't feel safe if they have to go live at home. with family members or if they need to go to a skilled nursing facility, as many of them have heard horror stories about how LGBTQ+ people are treated.
Tonia Poteat, Ph.D., PA-C, associate professor at the University of North Carolina at Chapel Hill, provided additional context for the intersection of race and sexual minority status, focusing on disparities in timely access to breast cancer care.
Poteat, who worked as a physician's assistant for 15 years and then went back to school to get her doctorate because she and her patients had questions no one seemed to answer, reviewed studies of breast cancer care. breast and found a dearth of breast cancer care information for black sexual minority women — or even for black women in general.
She set about designing a study in cooperation with several advocacy and resource groups to make sure she had enough respondents to have a good-sized study.
She found that black sexual minority women experienced five times more delays in accessing care than white heterosexual women. Reasons for delays included structural barriers, such as cost or transportation; mistrust; embarrassment; institutional barriers such as the inability to reach a health care provider; and even the feeling that seeking care was useless.
Even institutional resources intended to help patients can become an obstacle if they are not considered. For example, a lesbian breast cancer patient said she had asked about a support group for her partner, but was told that the support group was for husbands.
Poteat said she was surprised by the amount of stigma and shame around a breast cancer diagnosis revealed by her study. She thought the "strong black woman" stereotype might have something to do with it.
"For this study population, what I've seen in the qualitative data — and even among my friends — is wrapped up in this notion of a black superwoman complex. We're meant to always be strong. Always be sassy. Do always a way out of nowhere," she said. "That trope makes it really hard to say, 'I have a life-threatening condition that requires a lot of care and support, and I'm going to need my to go to the doctor, someone to bring me food, someone to take care of my children, someone's shoulder to cry on I might need financial support.
"All of these things require someone to be vulnerable enough to express a need, and black women in this society are not allowed to do that."
Judging by the large number of grateful and positive comments that poured in over two days, the summit was much needed and a huge success.
To say that Chase Glenn, Director of LGBTQ+ Health Services and Corporate Resources and host of the inaugural summit, was proud of the overall impact of the event would be an understatement.
"I simply couldn't be happier with the turnout for the event and especially the incredible energy that surrounds every conversation. Having so many opinion leaders in one place leaves me speechless. We left the last session on such a high note. Dr. Willette Burnham-Williams' parting words were both meaningful and inspiring, charging us each to take back what we had learned and be part of the solution. Now we are moving forward putting all this into practice.
Glenn added that this summit was an important opportunity for MUSC to shine and lead.
"We created something special that brought people together not just from across the state, but from around the world. Wow! What an event. It was really better than I could have imagined. It was definitely a starting point to build something even better for the future.