Kansas seed Ochai Agbaji rolls over West Virginia in Big 12 quarterfinals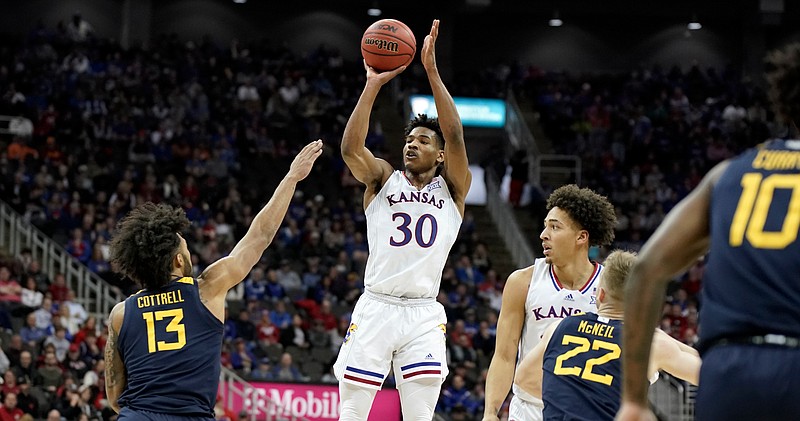 KANSAS CITY, Mo. — Ochai Agbaji scored 18 points and Christian Braun had a career-high 11 points and 14 rebounds as the top-seeded Kansas men's basketball team earned an easy 87 win. -63 over No. 9 seed West Virginia in the quarterfinals of the Big 12 Tournament Thursday afternoon at T-Mobile Center.
With the victory, the sixth-placed Jayhawks (26-6) will advance to face the No. 5 seed TCU in the semifinals at 6 p.m. Friday. It will be the third game in 11 days against the Horned Frogs, who beat fourth-seeded Texas to a 65-60 victory despite being down 20 points.
Photo gallery
Kansas Basketball vs. West Virginia (Big 12 Tournament)
See a photo gallery from Thursday's Big 12 Tournament game between the Kansas Jayhawks and the West Virginia Mountaineers.
Jalen Wilson had 15 points and Mitch Lightfoot had 10 for Kansas, which led up to 24 in the first half and 28 in the second as West Virginia (16-17) struggled to make a shot.
The Mountaineers started 1 for 20 in the first 11 minutes, by which time they trailed 24-4. West Virginia, which shot 19 of 58 (32.8%) in the afternoon, shot just 5 of 31 (16.1%) in the first half.
He also spent most of the game without coach Bob Huggins, who received a pair of technical and ejected at just 10:01. Huggins was upset at the lack of a foul call on Jalen Wilson, who blocked a Taz Sherman shot, and TV cameras appeared to catch him saying 'we don't have a chance' as he crossed the tunnel to the locker room.
Kansas, which had a 41-19 halftime advantage, gave West Virginia a 7-0 run in the first two minutes of the second half. Agbaji forcefully ended that by driving for a layup, fouling and making the free throw, and the Mountaineers did not come within 14 points of the rest of the way.
The Jayhawks shot 33-for-63 (52.4%), including 6-for-18 (33.3%) from 3-point range, and had a 48-27 advantage in rebounding to improve to 22-3 from all times in the Big 12. quarter-finals.
Malik Curry led West Virginia with 19 points, including 11 from free throws, and Taz Sherman had 10.
Kansas lost 74-64 to next opponent TCU on March 1, then recovered to win 72-68 two days later.