Pediatric COVID vaccine is "our way to normalcy" | MUSK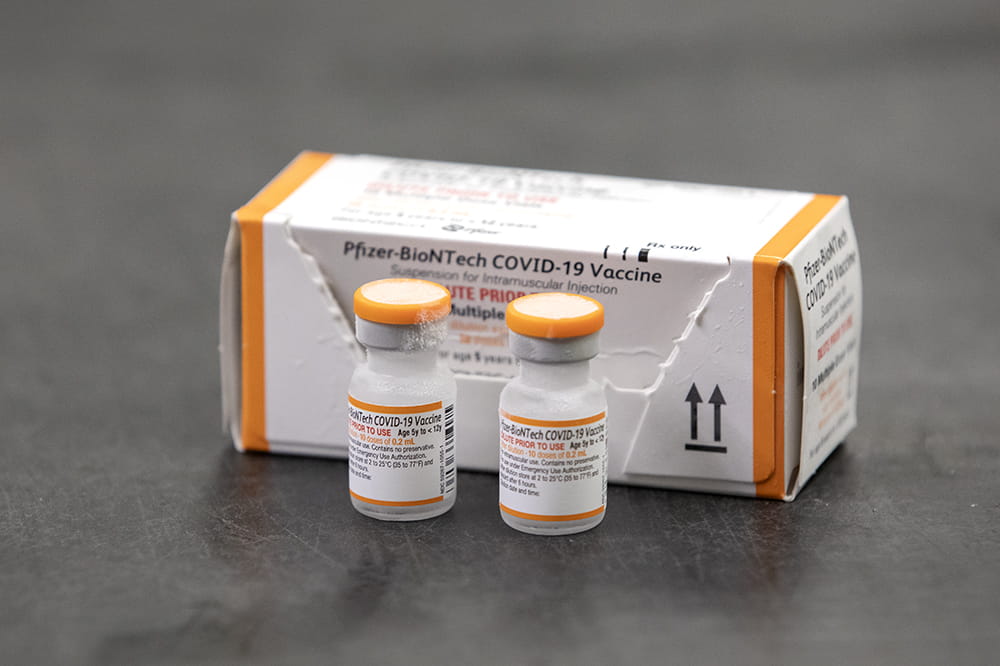 Across South Carolina and the country, parents of elementary school students can now choose to have their children vaccinated against COVID-19.
With so many competing voices and widespread misinformation, it's a choice that may seem frightening to some. But for at least one mom, it's an option that couldn't come soon enough.
"We've been waiting for this for a year," said Allison Eckard, MD, director of the division of pediatric infectious diseases at MUSC College of Medicine and a mother of two young children. "This is our path to normalcy."
The Centers for Disease Control and Prevention approved the Pfizer BioNTech COVID vaccine for children aged 5 to 11 after a one-day session on Tuesday. MUSC Health will begin offering the vaccine to children on Thursday.
Eckard realizes that she has a perspective that most don't. She has seen children admitted to the intensive care unit at MUSC Shawn Jenkins Children's Hospital due to COVID or MIS-C, a rare condition that sometimes follows a COVID infection, and she has seen how much they can get sick. Last week, an unvaccinated teenager died.
"This is the perspective we have, as pediatricians, as we see the full spectrum of the pandemic, from children who are doing well to children who are not. Not everyone in the community has that perspective, "she said.
And while death is the marker most often used in public debate to assess the severity of COVID, it is not the only outcome that should be considered, Eckard said. Hospitalization, persistent symptoms and absence from school are all serious negative effects. The long-term effects of COVID-19 are also possible but currently unknown.
The vaccine, on the other hand, has been shown to be safe and effective. The side effects most likely to be reported in the 5-11 year old test group are injection site pain, fatigue, and headache. Myocarditis, the side effect that seems to worry parents the most, has not been reported in this group. When it does, it's more likely in men in their late teens or early adulthood, Eckard said, but even then it's usually mild and improving quickly. She expects this side effect to be even rarer in the younger age group.
And, she noted, it's important to remember that COVID itself can also cause complications like myocarditis, which occurs more frequently and tends to be much more severe. Earlier in the pandemic, when children were at home and masking and social distancing was observed more strictly, it was easier to avoid COVID. Now, with Delta's circulation and community transmission classified as "substantial" by the CDC, it's more about "when" than "if" the unvaccinated will receive COVID, she said.
"I think 'wait and see' is not the right approach because while you are waiting there is a good chance your child will be infected," Eckard said. "I think it's not a good bet.
None of the children admitted to MUSC Shawn Jenkins Children's Hospital because of COVID, from the start of the pandemic until now, have been fully immunized, she said.
Severe COVID remains relatively rare in the 5 to 11 age group, she said. But children this age are just as susceptible to COVID and just as likely to transmit it as adults – which was not clear at the start of the pandemic, when children were kept close to home.
And CDC data shows that 32% of children aged 5 to 11 who were hospitalized for COVID-19 had no underlying or pre-existing conditions.
"I've said it from the start, you have to have healthy respect for this virus," Eckard said. "There is so much we don't know about this. It's not a cold. It's not even the flu. This is different. It's something we've never seen before. We don't know much about it; it is very serious and it can have long term effects.
Eckard encouraged parents who have questions to speak with their child's pediatrician. And she reminded parents that another peak of cases is expected during the holidays, which are only a few weeks away. To celebrate safely with family members of all ages, it's best to vaccinate everyone who qualifies, she said.
Preparation for deployment
To prepare for the deployment of the pediatric vaccine, all providers responsible for giving vaccines, whether they usually see adults or children, should complete online training, said Ali Worthy, director of administrative operations for the team. MUSC Health pandemic response. Providers who typically care for adults will then benefit from additional in-person supervision and training from clinicians with pediatric experience.
The pediatric vaccine is exactly the same as that given to adolescents and adults with one significant difference: children will receive 10 micrograms, compared to 30 micrograms for adolescents and adults. The needle itself will be smaller for children, and there will be more doses per vial for the children's version.
The most noticeable change will be in the packaging – vials with children's vaccine will have an orange cap to differentiate it from vials for adults. Current adult vials have a purple cap.
However, just like adults, children will receive two doses, scheduled three weeks apart. People are considered to be fully vaccinated two weeks after the second dose. Some children with certain immune system diseases may need a 3rd dose.
Worthy said MUSC Health is phasing in opening its vaccination clinics, starting with the old DMV site at 180 Lockwood Blvd., on the peninsula. It will then open immunization clinics at the MUSC Children's Health R. Keith Summey Medical Pavilion and at the Charleston International Airport. The three pharmacies on the Charleston Peninsular MUSC campus will also receive the vaccine.
As these sites start up, MUSC Health will begin offering the vaccine at its four pediatric practices in North Charleston and Moncks Corner. He also works with the Charleston County School District to provide after-school clinics throughout the district.
Parents are welcome to make an appointment at this time. As of Wednesday, MUSC Health had ordered nearly 4,000 doses for the Charleston Division, some of which will be shared with the Midlands Division; 900 for the Florence division and 600 for the Lancaster division.
Calendar
From Thursday, November 4
180 Lockwood Blvd., 7 a.m. to 7 p.m. Monday to Friday and 7 a.m. to 4 p.m. Saturday.
ART pharmacy, 9 a.m. to 4 p.m., Monday to Friday.
SJCH pharmacy, 8:30 a.m. to 4:30 p.m., Monday to Friday.
Rutledge Tower Pharmacy, 8 a.m. to 5 p.m. Mondays, Tuesdays, Thursdays and Fridays,

and from 7:30 a.m. to 7:30 p.m. on Wednesdays, Saturdays and Sundays.

From Friday, November 5
Summey Medical Pavilion tents, 3 p.m. to 8 p.m. Monday to Friday and 7 a.m. to 4 p.m. Saturday.