Raleigh alumni will participate in the 'Trek Race'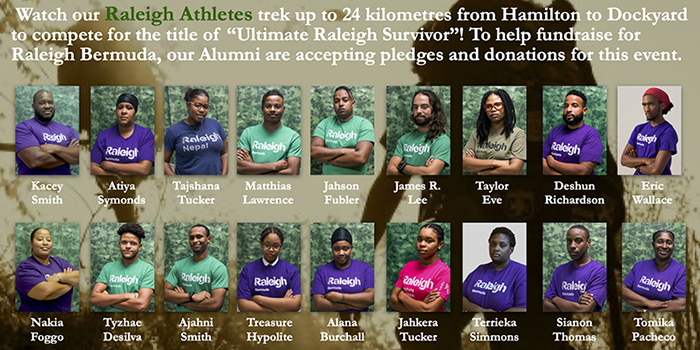 Raleigh Bermuda alumni will participate in a "Trek Race" as a fundraiser for the charity, with participants walking up to 24 kilometers with a backpack on November 21.
A spokesperson said: "Raleigh Bermuda is known for its adventurous and survival training camps locally and abroad. Always with the mission of challenging our young people to reach their full potential, Raleigh Bermuda Alumni came together to participate in a "Trek Race" as a fundraiser for the charity. [#710].
"On November 21, the event will see 18 athletes from Raleigh, former students of the Brave and Venturer program, compete on three different hiking routes starting at Raleigh HQ and then going through the different levels of hiking: Beginner, Intermediate and Advanced.
"Raleigh athletes will travel up to 24 kilometers with a backpack. The event will end in Dockyard celebrating the arrival of the Advanced Trekkers and all participants in the race. The shipyard celebration will be a private event, but Raleigh calls on all members of the community to cheer on and support our athletes on the streets and on the lawns of their homes!
"Participants will accept pledges and donations from the community for this fundraiser.
"Our Raleigh athletes are: Ajahni Smith, Alana Burchall, Atiya Symonds, Deshun Richardson, Eric Wallace, Jahkera Tucker, Jahson Fubler, James R. Lee, Kacey Smith, Matthias Lawrence, Nakia Foggo, Sianon Thomas, Tajshana Tucker, Taylor Eve, Terrieka Simmons, Tomika Pacheco, Treasure Hypolite and Tyzhae Desilva.
"To donate, please contact [email protected] or call 333.5678. The event is sponsored and supported by WEDCO, International Sports Shop, BGA, It's That Type of Party and MADPhotography BDA.
Learn more about
Category: All, News, Sports