Sam Jesmer, from Bridgeport, West Virginia, challenges himself to run 100 mile | New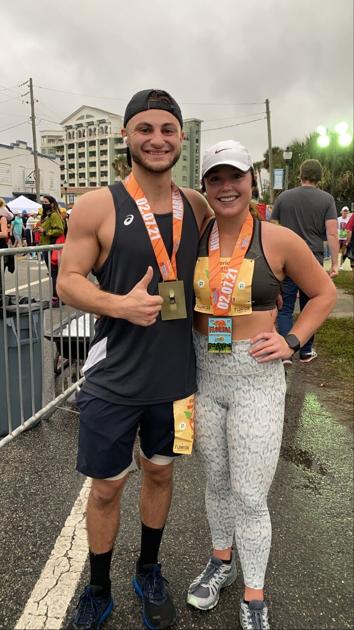 BRIDGEPORT, W.Va. (WV News) – Bridgeport native Sam Jesmer never backs down from a challenge, but is about to face his biggest challenge yet.
The current Florida resident will be traveling from Key Largo, Florida to Key West, Florida – primarily around the United States 1.
"I'm going to finish it in at least 30 hours," Jesmer said. "I'm going to start Saturday morning (September 18th) and run all day and night, so I figured it would be around Sunday afternoon / evening that I would be done."
Jesmer, a graduate of Fairmont State University, will occasionally have positions to provide water and nutritious food or first aid.
Jesmer's longest run in a single weekend is 30 miles. He communicates by phone and electronically with a coach based in Las Vegas.
"The training throughout the six months has been four weeks of heavy training and then a recovery week, which typically only includes about 20 miles over the course of the week," Jesmer said. "Heavy training consists of 40 to 60 miles per week. "
Jesmer will run up to 6 miles (which usually takes around an hour) in the morning before working as a Construction Management Engineer for Baker Concrete, but prefers to run midday on weekends to prepare for extreme heat. .
His work in skyscrapers and apartments also prepares him for long days in sunny Florida.
"I think it's pretty awesome," said mom Anita Jesmer. "He does it on his own, not with a large group of people."
Jesmer's first long-distance race was scheduled to be the Miami Marathon in August 2020 before it was canceled. He ended up running the Florida Marathon in Melbourne, Fla., And the A1A Marathon in Fort Lauderdale a week apart in February.
"When I started my marathon, I ran into a young man in a wheelchair. Seeing him, I immediately became grateful and appreciate the fact that I am able to do the one thing I love: running. After that day, I also decided to dedicate my runs to those who can't due to illness or disability, and wanted to find a way to make an impact on their lives, "said Sam Jesmer. "For my upcoming 100 mile run, I decided to start a fundraiser, but I wasn't sure which organization to dedicate the funds to. Then I watched a documentary on Netflix called "7 Yards". This is the inspirational story of a young man who faced the challenge of hearing the doctor tell him he will never walk again because he was paralyzed from a football injury to the university. But he was determined from day one to walk again. He went through extensive training and therapy to achieve his goal.
"His goal was to walk at his wedding, so he went through extensive strength and mobility training and therapy to be able to walk."
Jesmer spoke with this documentary subject, Chris Norton, now a motivational speaker, by phone and email about his goal. The Chris Norton Foundation funds various levels of accommodation and equipment for neuromuscular disabilities and facilitates opportunities that would not otherwise exist for people with paraplegia.
"I had a high from a runner and wanted to do more, make an impact on people's lives while I was running," said Jesmer.
During his 100 mile race, he will be accompanied over short distances by his friend Garrett Senne and his brother Bobby Jesmer.
"I have a few friends who will be running portions of the race with me," said Jesmer. "They are not marathon runners though; they are just active.
Bobby Jesmer, who is three years older and an outpatient physiotherapist in Virginia, called his brother an outgoing person.
"Sam has been telling me about this idea since the spring probably," said Bobby Jesmer. "I'm proud of him, impressed that in such a short time he was able to run a marathon and decide to run 100 miles in a few months."
Bobby, who continues to run and cycle recreationally, has also ranked as an endurance athlete who has run 5k races.
"I've never run 100 miles, but I've done a few endurance events. I know he's been coached and I've also given him a bit of wisdom along the way, "added Bobby Jesmer.
{div id = "i4c-draggable-container" style = "position: corrected; z index: 1499; width: 0px; height: 0px;"} {/ div} {div id = "i4c-dialogs-container"} {/ div} {div id = "i4c-dialogs-container"} {/ div}