Testicular cancer survivor raises funds and awareness with humor | MUSK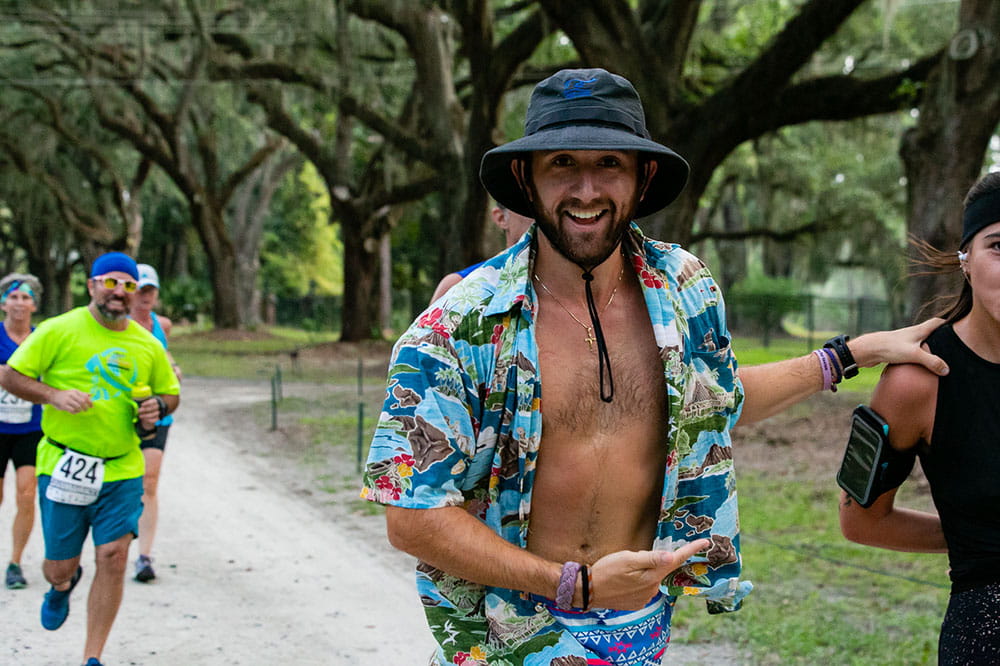 Testicular cancer is a disease of young men: the average age at the time of diagnosis is only 33 years old.
Michael Wiegand was on the younger side of that average, 24, when he was first diagnosed. Now 30, he is battling two bouts of cancer.
Although testicular cancer rates are increasing in the United States, the good news about this cancer is that it has a 95% five-year survival rate.
Wiegand isn't quite at the five-year mark yet, but he's going all out. After undergoing chemotherapy at MUSC Hollings Cancer Center in 2018 and being declared cancer-free, Wiegand successfully ran a marathon, half-marathons and a number of distance races.
It's both a way to prove to himself that he's healthy and a way to raise money for cancer research – as a fundraiser, Wiegand makes and sells tank tops that brazenly proclaim "Besties for Tests".
"I've been in races as an individual and as part of a team wearing these shirts to help raise awareness and get the word out. And trust me there aren't too many people that I've seen that haven't peeked when you're wearing a shirt that says testicles," he said.
He's now training for an Ironman triathlon in July, and when he started looking for shorter swim meets to prepare for, he came across the Charleston-Kiawah Open Water Swim presented by Swim Across America. The charity swim, which takes place June 12 along the Kiawah Island shoreline, raises funds for Hollings — more than $200,000 since 2018.
Although he has since moved to New York, where he is a quality control scientist at Regeneron, Wiegand immediately knew he wanted to participate.
"Hollings and MUSC were a huge part of my mid-twenties," he said. He was a doctoral student in the lab of Jeremy Gilbert, Ph.D. at MUSC College of Medicine, when he was second diagnosed, and he was treated at Hollings, undergoing four grueling rounds of chemotherapy. He was also admitted to the hospital several times due to side effects.
"Not a single person in this center has ever let me lose hope, and all of my nurses made sure they were within earshot when I finally rang that bell."

Michel Wiegand
cancer survivor
Wiegand said he was grateful to so many people he met at MUSC – from Gilbert, who encouraged him to focus on his health first and foremost, to the clinical care teams on the care units. hospital and outpatient.
"Not a single person in this center has ever let me lose hope, and all of my nurses made sure they were within earshot when I finally rang that bell."
Throughout treatment, Wiegand said, he looked forward to resuming physical activity. Her doctor, Théodore Gourdin, MD, constantly advised her to calm down.
"He was a great player about everything," Wiegand said.
Now there is no way to slow it down.
Wiegand has a simple message for other men: don't be shy.
"You always have to watch your health. Finding a lump in your testicle is definitely a shock, and there are a lot of different things that go through your mind because you don't know exactly what it could be," he said. "At the end of the day, I think you shouldn't be embarrassed, because whatever the outcome, I don't think you can regret going to the doctor – I certainly don't."
Wiegand found the lump that led to his first cancer diagnosis because he saw a talk show segment encouraging men to check themselves regularly. It wasn't something he learned in health class, but he started getting monthly checkups, he said.
His diagnosis, he said, led all of his male friends and family to self-check as well. He hopes speaking out will encourage more men to be aware of this aspect of their health.
"No matter how embarrassing or uncomfortable the situation seems to you as a young man, you should always find the strength and the courage to ask for help."